The new way to stop doors
Virtually invisible: When it comes to GEZE ActiveStop, the only thing that stands out is its performance. Thanks to its compact dimensions, the GEZE ActiveStop door stopper is hardly visible, especially in the integrated version, and therefore satisfies the most demanding design requirements. Visually unappealing door stoppers on the floor or wall are now a thing of the past. It ensures controlled, dampened opening and closing and also conveniently holds the door open in the desired position.
Find out more about the extensive functionalities of GEZE ActiveStop:
Functions
Damping and free swing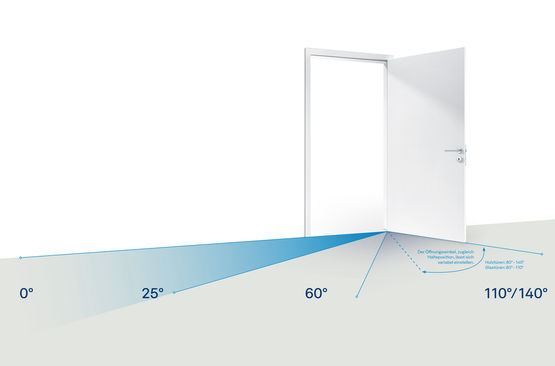 Safe closing and convenient opening
GEZE ActiveStop keeps the door closed. You can avoid lock latches and handles, and design your door freely. The door can be pushed open easily without a latch, even when your hands are full.
Door damping and closing in closing direction from 25°
The closing door is gently braked from an angle of 25° and automatically pulled closed.
Free swing between 25° and 60°
GEZE ActiveStop allows your door free movement over this range. And regardless of how much swing the door has – the damper catches it reliably and safely from 25° or 60°.
Door damping and closing in opening direction from 140°
From an angle of 60°, the opening door is gently braked and automatically pulled open – up to the individually adjustable opening angle of max. 140°. The maximum adjustable opening angle for glass doors is 110°.
Opening angle and holding position
The desired opening angle is also the holding position and can be variably set between 80° and 140°. This allows you to decide for yourself how far doors may be opened, depending on the installation situation. As such, damaged walls or furniture behind the door or unsightly door stoppers are a thing of the past.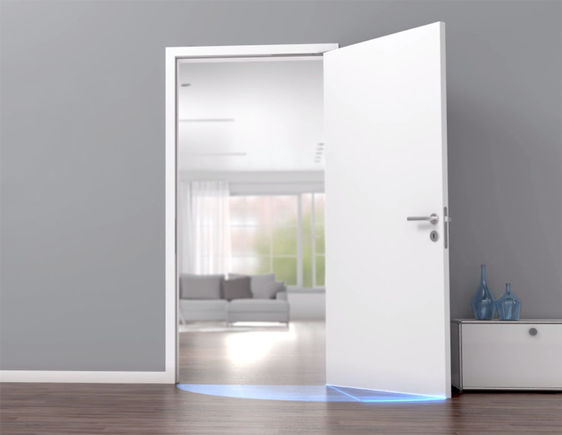 Limited opening angle due to an object
If there is an object, such as a cupboard, behind the door, the opening angle of the door can be adjusted so that the door can no longer slam against the cupboard.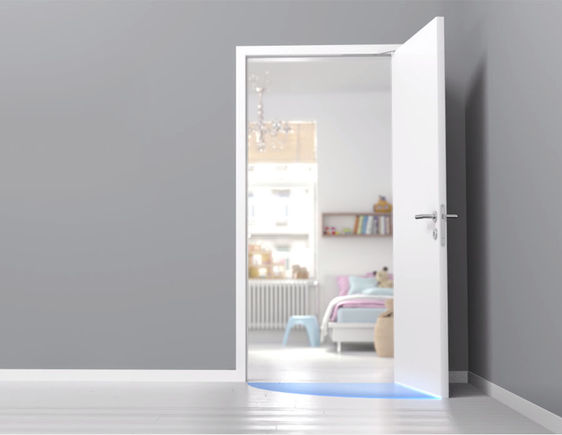 Restricted opening angle due to a wall
If there is a wall behind the door, the opening angle of the door can be adjusted so that the door can no longer slam against the wall.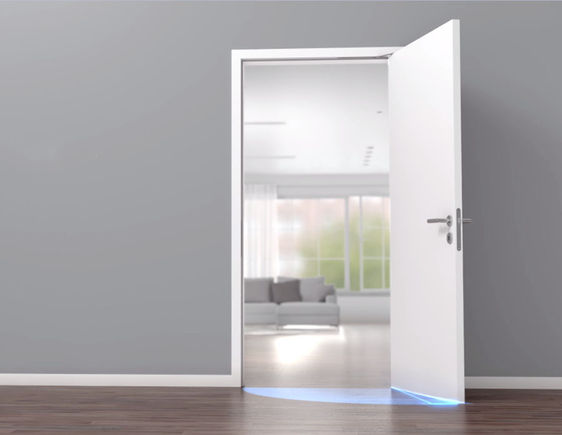 Fully utilised opening angle
Of course, the door can also make use of the entire opening angle of 140° if there is no risk of damaging an object.
Convenience
GEZE ActiveStop offers many advantages
Advantages in closing direction
Gentle, controlled braking and retraction of the door when closing from 25°
No uncontrolled slamming of the door (from draughts or carelessness) and no noise
No damage to frame, door leaf, etc. when slamming the door
Minimised risk of injuries, e.g. trapped fingers
The door stays shut independently
Advantages in opening direction
Gentle retracting of the door in maximum open position (adjustable from 80° to 140°)
No damage to walls, door leaves or furniture when opening door with full swing
Comfortable passing through the door (e.g. when carrying a large bag or a child in one's arms)
No floor mounted or wall mounted door stopper necessary
Download product brochure (PDF | 561 KB)