Information for distributors
Both GEZE ActiveStop versions are available from distributors. A list of the distributors offering our products can be found here. If you also want to sell our GEZE ActiveStop, please send us an e-mail.
Our campaign for distributors
Secure a team event worth 500 euros
Claim a credit for a team event of your choice worth 500 euros for you and your team as a reward for the optimum positioning and sale of the new GEZE ActiveStop surface-mounted.
Join in the fun:
Present the new GEZE ActiveStop surface-mounted in your publicly accessible sales areas on a functional door
Send in a video evidence for the function test
Consent/agreement to the inclusion of your distributor address to our postcode search on this campaign page
Proven purchase of at least 100 GEZE ActiveStop through sales receipts
Campaign period: Until 31.07.2020
Take part in our campaign! More information about participation can be found in the campaign flyer.
Download our flyer for more information (578 KB)
Employees of the GEZE Group and their relatives are excluded from participation in the "GEZE rewards your team" campaign. The bonus is only intended for this sales campaign. Participation is only permitted for companies domiciled in Germany.
The campaign will take place between 12.03.2020 and 31.07.2020. Each company may only participate once. All decisions are final. GEZE reserves the right to reclaim the credit note if the customer withdraws completely from the contract and/or if the conditions of the sales campaign are not met.
If you have any further questions, please write to us.
GEZE attaches particular value to the protection of personal data and treats it with greatest confidentially. Information submitted will only be processed within the framework of legal conditions, in compliance with the relevant data protection conditions, especially the European General Data Protection Regulation, and protected using extensive technical and organisational measures which go beyond the minimum legal stipulations.
Personal data provided is processed exclusively for internal purposes within GEZE; in this case, for the sake of the campaign. Information will not be forwarded for commercial purposes. You may withdraw your consent for your data to be used for this purpose at any time. Please send any requests in this regard to datenschutz@geze.com. For further questions regarding the collection, processing and use of your personal data, please contact GEZE GmbH, Reinhold-Vöster-Straße 21-29, 71229 Leonberg or by e-mail.
You can find further information on the processing of your data in our General data protection guidelines.
Listed dealers
The GEZE ActiveStop is currently listed by these dealers
Listing as dealer
Do you also want to sell GEZE ActiveStop and be listed as a distributor on this website? Then get in touch with us.
Write us an e-mail
Case study
Convenient in everyday life and a real eye-catcher for your customers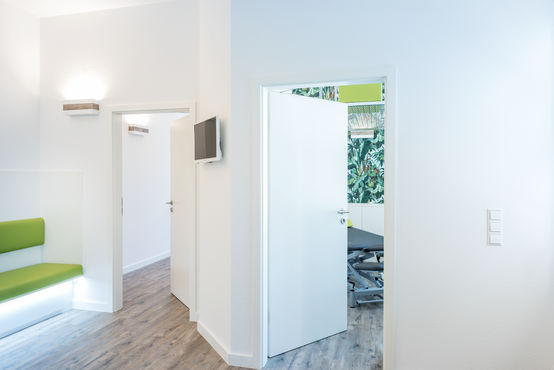 Practical in everyday life and an eye-catcher: GEZE ActiveStop.
The "BEHANDELBAR 3.0" physiotherapy practice in Sindelfingen in Stuttgart is capitalising on the new GEZE ActiveStop door damper. The intelligent system ensures controlled, dampened opening and closing of internal swing doors. GEZE ActiveStop thus makes it easier and more comfortable to enter a room than ever before. An aspect that one quickly appreciates in BEHANDELBAR 3.0.