Full flexibility for your home
The surface-mounted GEZE ActiveStop
You can install our GEZE ActiveStop surface-mounted door stopper yourself. And best of all: If you move or your life situation changes, you can remove the door stopper at any time and attach it to another door.
Door stoppers on wall and floor are a thing of the past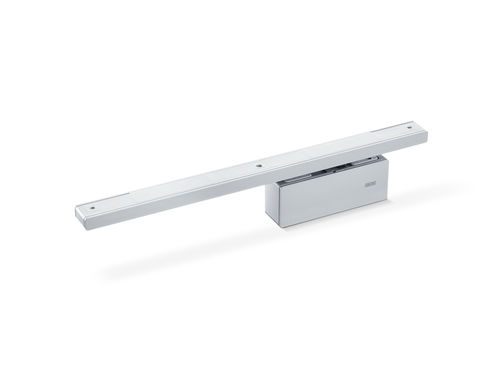 The surface-mounted GEZE ActiveStop for glass and timber doors. © GEZE GmbH
The surface-mounted GEZE ActiveStop is an enrichment for any interior door – whether made of timber or glass.
It has a draw-in damper in opening and closing direction. This makes loud door slamming a thing of the past. You can set the opening angle of the door yourself, as well as the damping power. Unsightly door stoppers on furniture or walls are therefore no longer necessary. You can simply walk through the door as usual, and the functions are extremely intuitive. Even a light push on the door closes it safely without slamming or remaining in the set holding position.
Buy GEZE ActiveStop
The retrofittable solution for your home
The surface-mounted GEZE ActiveStop
Whether timber or glass door, retrofitting is very easy. © GEZE GmbH
The dampened opening and closing of the door offers numerous benefits:
no slamming of doors possible thanks to the door damper
no hazards due to fast closing doors
no door slamming thanks to closing damping
comfortable passing through the door through dampened opening
no damage to walls and furniture behind doors
| | |
| --- | --- |
| Characteristic | Description |
| Can be used anywhere | Thanks to its compact dimensions, GEZE ActiveStop fits onto almost every interior door up to 45 kg. Irrespective of whether you have timber or glass doors. |
| Individually adjustable | You can adjust how far your door should open and how strongly GEZE ActiveStop should damp it on opening and closing as needed and based on your home situation. The adjustable opening angle is between 80°-140°. |
| Reliable over the long term | GEZE ActiveStop is the product of durable and long-lasting workmanship "Made in Germany". The door damper offers unlimited top quality with functionality, safety and aesthetic design. |
| Removable without leaving any residues behind | GEZE ActiveStop can be removed nearly without leaving any residues so that you can take it with you when you move house. |
| Inconspicuous | The door behaves like a "normal" door through which you can enter and leave the room as usual. |
| Independent assembly | No craftsman is needed for installation. |
Do you want to install GEZE ActiveStop permanently and hardly visible in your house?
In addition to the surface-mounted GEZE ActiveStop version, there is also an integrated version that offers the same advantages but is almost invisible at the door. It is integrated into the door leaf. Thanks to its compact dimensions, GEZE ActiveStop fits into almost every interior door up to 45 kg.
Find out more about GEZE ActiveStop
Our partner
Buy our GEZE ActiveStop online
Experience the GEZE ActiveStop live
Current exhibitions
Visit our local dealers and experience the surface-mounted GEZE ActiveStop live in the exhibitions
Name
Address
Postcode and city
Opening hours
Phone number
Website
Ohning + Co. GmbH
Hofmühlenstraße 18
01187 Dresden
Monday - Friday: 08:00 am - 04:00 pm
+49 (0) 351-428714-0
to the website
ELG des holzverarbeitenden Handwerks
Carl-Maria v. Weber-Allee 75
01558 Großenhain
Monday - Friday: 07:00 am - 05:00 pm
+49 (0) 3522-522 70
to the website
ELG Holzhandwerk Dippoldiswalde eG
Dresdner Straße 131
01744 Dippoldiswalde/OT Obercarsdorf

Monday - Friday: 07:00 am - 05:00 pm

Saturday: 08:00 am - 12:00 pm

+49 (0) 3504-6473-0
to the website
Richter Bauelemente
Kamenzer Straße 20
01896 Pulsnitz
Entry to the exhibition is only possible after arrangement by phone.
+49 (0) 35955-8620
to the website
Wöhlk Baustoffzentrum GmbH
Gewerbepark 20
02692 Großpostwitz

Monday - Friday: 06:30 am - 06:00 pm

Saturday: 08:00 am - 12:00 pm

+49 (0) 3591-3727-0
to the website
THEILE & WAGNER GmbH & Co.KG
Gerhart-Hauptmann-Straße 27
02763 Zittau
Monday - Friday: 07:00 am - 05:00 pm
+49 (0) 3583-500 92-0
to the website
Wöhlk Baustoffzentrum GmbH
Am Güterbahnhof 1
02829 Markersdorf OT Holtendorf

Monday - Friday: 06:30 am - 06:00 pm

Saturday: 08:00 am - 12:00 pm

+49 (0) 3581-7474-0
to the website
Zinn Bauelemente GmbH
Unterm Dorfe 1
07429 Rohrbach
Monday - Friday: 08:00 am - 05:00 pm
+49 (0) 36730-341-0
to the website
Fickert & Ulbricht Bauelemente GbR
August-Bebel-Straße 14
09217 Burgstädt

Monday - Wednesday: 10:00 am - 05:00 pm

Saturday: 09:00 am - 11:00 am
or by arrangement!

+49 (0) 3724-854-277

+49 (0) 3722-503-960

to the website
Holzzentrum Luhmann
Heinrich und Henry Luhmann GmbH
Im Rolande 3
29223 Celle

Monday - Friday: 07:00am - 05:00 pm

Saturday: 08:00am - 01:00 pm

+49 (0) 5141 3843-0
to the website
Glasfischer Glastechnik GmbH
Krendelstraße 34
30916 Isernhagen
Monday- Friday
+49 (0) 511 9027-0
to the website
BAUPART GmbH
Gewerbestraße 13c
44866 Bochum
Monday - Friday: 07:30 am - 04:30 pm
+49 (0) 2327-9840-0
to the website
Wallburger GmbH
Siegburger Straße 223-225
50679 Köln-Deutz

Monday - Friday: 08:00 am - 05:00 pm

+49 (0) 221-8895-0
to the website
Tischlerei Kolb GmbH
Mallwitzstraße 12
53177 Bonn

Monday - Friday: 08:00 am - 05:00 pm

Saturday: 10:00 am - 02:00 pm

+49 (0) 228-94331-0
to the website
H. Isserstedt GmbH
Weststraße 88
58089 Hagen

Monday - Friday: 09:30 am - 06:30 pm

Saturday: 10:00 am - 02:00 pm

+49 (0) 2331-364-0
to the website
Karl Krebs GmbH
Prinzenstraße 20
58332 Schwelm

Monday - Friday: 08:00 am - 06:00 pm

Saturday: 10:00 am - 01:00 pm

+49 (0) 2336-49063
to the website
Hagen, Herrmann u. Co. GmbH
Bahnhofstraße 3
58840 Plettenberg

Monday - Friday: 07:30 am - 05:00 pm

Saturday: 09:00 am - 12:30 pm

+49 (0) 2391-60516-0
to the website
Schäfer Türen GmbH
Landwehr 3
59969 Hallenberg
Monday - Friday: 07:00 am - 05:00 pm
+49 (0) 2984-8351
to the website
Glas & Technik Holpp GmbH
Wellendinger Straße 64
72335 Schömberg

Monday - Thursday: 07:15am - 12:00 pm and 01:00 pm - 05:00 pm

Friday: 07:15 am - 12:00 pm and 01:00 pm - 04:00 pm

+49 (0) 7427-9490-0
to the website
Schwabenglas GmbH
Robert-Bosch-Straße 81
73431 Aalen
Monday - Friday: 07:00 am - 05:00 pm
+49 (0) 7361-5725-0
to the website
Hermann Metzger GmbH
Fabrikstraße 36
73207 Plochingen

Monday - Friday: 07:30 am - 06:00 pm

Saturday: 09:00 am - 02:00 pm

+49 (0) 7153-8330-0
to the website
Eduard Doerk GmbH & Co. KG
Rötelstraße 40
74172 Neckarsulm

Monday - Friday: 07:00 am - 05:00 pm

Saturday: 08:00 am - 01:00 pm

+49 (0) 7132-326-0
to the website
Häsele Baucentrum
Wilhelm-Heller-Ring 2
74523 Schwäbisch Hall

Monday - Friday: 06:30 am - 06:00 pm

Saturday: 07:30 am - 02:00 pm

+49 (0) 791-95005-0
to the website
Glas Wehrle
Goldenbühlstraße 21
78048 Villingen-Schwenningen
Monday - Friday: 07:30 am - 12:00 pm and 01:00 pm - 05:30 pm
+49 (0) 7221-56084-0
to the website
HolzMaxX GmbH & Co. KG
Robert-Gerwig Straße 19/1
78244 Gottmadingen

Monday - Friday: 09:00 am - 12:15 pm and 01:15 pm - 06:00 pm

Saturday: 09:00 am - 01:00 pm

+49 (0) 7731-144-709-0
to the website
HolzMaxX GmbH & Co. KG
Reichenaustraße 34
78467 Konstanz

Monday - Friday: 09:00 am - 12:15 pm and 01:15 pm - 06:00 pm

Saturday: 09:00 am - 01:00 pm

+49 (0) 7531-362-21-0
to the website
Glashandel Tuttlingen GmbH
Dr. Karl-Storz-Straße 12
78532 Tuttlingen

Monday - Thursday: 07:30 am - 12:00 pm and 01:00 pm - 04:30 pm

Friday: 07:30 am - 12:00 pm and 01:00 pm - 04:00 pm

+49 (0) 7461-9462-0
to the website
J.N. Kreiller
Industriestraße 2
83278 Traunstein
Monday - Friday: 07:30 am - 05:00 pm
+49 (0) 861-63-0
to the website
J.N. Kreiller
Traunreuter Straße 6
84478 Waldkraiburg
Monday - Friday: 07:00am - 05:00 pm
+49 (0) 8638-9684-0
to the website
Glas Seele
Boschstraße 2
86356 Neusäß

Monday - Friday: 08:00 am - 12:00 pm

Monday - Thurday: 01:00 pm - 06:00 pm

Friday: 01:00 pm - 04:00 pm

+49 (0) 821-208-290-0
to the website
attinger bauelemente GmbH
Röntgenstraße 10
86368 Gersthofen

Monday - Thursday: 07:30 am - 12:00 pm and 01:00 pm - 04:30 pm

Friday: 07:30 am - 12:00 pm

+49 (0) 821-34348-0
to the website
Eduard Lutz Schrauben-Werkzeuge GmbH
Dieselstraße 15
86368 Gersthofen

Monday - Thursday: 07:30 am - 04:30 pm

Friday: 07:30 am - 03:00 pm

+49 (0) 821-4989-0
to the website
Möbelwerkstätte Furnier GmbH & Co.KG
Sandfeldstraße 17-19
86477 Adelsried

Monday - Thursday: 07:00 am - 12:00 pm and 12:45 pm - 06:00 pm

Friday: 07:00 am - 12:15 pm and 01:00 pm - 04:30 pm

+49 (0) 8294-12-77
to the website
KONRAD KLEIDER GmbH
Kurt-Kleiner-Straße 1
87719 Mindelheim

Monday - Thursday: 07:15 am - 05:00 pm

Friday: 07:15 am - 12:45 pm

+49 (0) 8261-794-0
to the website
Schreinerei Erwin & Markus Hecht
Riedstrasse 6
88521 Ertingen-Binzwangen

Monday - Thursday: 08:00 am - 12:00 pm and 01:00 pm - 04:30 pm

Friday: 08:00 am - 12:00 pm and 01:00 pm - 03:00 pm

+49 (0) 7371-5470
to the website
Richard Köstner AG
Karl-Eibl-Straße 44+48
91413 Neustadt an der Aisch

Monday - Friday: 08:00 am - 06:00 pm

Saturday: 08:00 am - 01:00 pm

+49 (0) 9161-668-128
to the website
SÜHAC GmbH
Rudolf-Diesel-Straße 3
91522 Ansbach

Monday - Thursday: 07:45 am - 05:00 pm

Friday: 07:30 am - 03:00 pm

+49 (0) 981-97000-499
to the website
Fenster-Türenzentrum GmbH & Co. KG
Heinrich-Hertz-Straße 12
92224 Amberg

Monday - Friday: 07:30 am - 05:00 pm

Saturday: 07:30 am - 12:00 pm

+49 (0) 9621 894-0
to the website
Schreinerei Ipfelkofer
Thannerstraße 4
93345 Hausen

Monday - Thursday: 07:00am - 06:00 pm

Friday: 07:00am - 02:00 pm

+49 (0) 9448-350
to the website
Obermeier Bauelemente
Vohburger Str. 22
85290 Geisenfeld
Monday - Friday: 08:00 am – 04:00 pm
+49 (0) 8452-7351055
to the website
Bär Concept
Hauptstr. 82
77855 Achern
Monday - Friday: 09:00 am - 12:00 am,
01:00 pm - 05:00 pm
+49 (0) 7841-6730980
to the website
Beschläge Koch GmbH
Hanferstraße 26
79108 Freiburg
Monday - Thursday: 07:30 am - 05:00 pm
Friday: 07:30 am - 04:00 pm
+49 (0) 761-47802-0
to the website

Eduard Lutz Schrauben-Werkzeuge GmbH

Trifthofstraße 61
82362 Weilheim
Monday - Friday: 08:00 am – 04:00 pm
+49 (0) 881-993-0
to the website

Bauelemente Christoph Forster

Starenstr. 4

93309 Kelheim

Monday - Friday: 08:00 am - 12:00 am,
01:00 pm - 05:00 pm

+49 (0) 9441-1793-81

to the website